Empordà D.O. / D.O.P.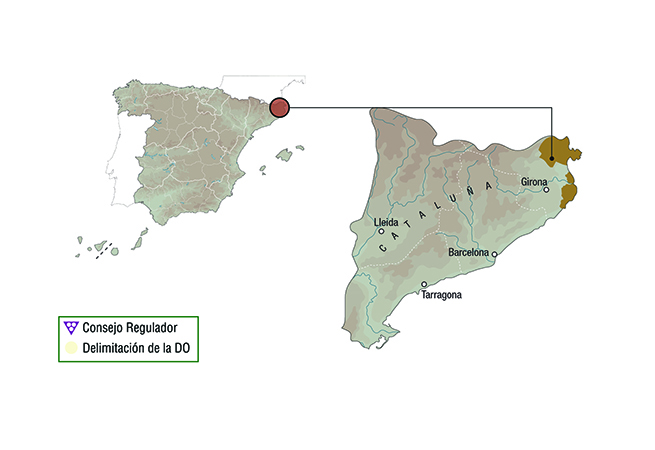 Classification of young wine vintages
Not rated
Good
Very good
Excellent
2009

2010

2011

2012

2013

2014

2015

2016

2017

2018

2019

2020

2021
See detail of Empordà D.O. / D.O.P.
FIGURES:
Vineyard surface (Has): 1,789– Wine-Growers: 266 - Wineries: 50 – 19 Harvest rating: Very Good – Production 19: 5,978,500litres – Market percentages: 90% National - 10% International.
LOCATION:
In the far north west of Catalonia, in the province of Girona. The production area covers 40 municipal areas and is situated the slopes of the Rodes and Alberes mountain ranges forming an arch which leads from Cape Creus to what is known as the Garrotxa d'Empordà.
CLIMATE:
The climatology is conditioned by the 'Tramontana', a strong north wind which affects the vineyards. Furthermore, the winters are mild, with hardly any frost, and the summers hot, although somewhat tempered by the sea breezes. The average rainfall is around 600 mm.
SOIL:
The soil is in general poor, of a granitic nature in the mountainous areas, alluvial in the plains and slaty on the coastal belt.
GRAPE VARIETIES:
WHITE: Preferred: garnacha blanca, macabeo (viura) cariñena blanca and moscatel de Alejandría. Authorized
:
xarel.lo, chardonnay, gewürztraminer, malvasía, moscatel de gra petit, picapoll blanc and sauvignon blanc.
RED
:
Preferred: cariñena, garnacha roja (lladoner roig) and garnacha tinta. Authorized
:
cabernet sauvignon, cabernet franc, merlot, monastrell, tempranillo, syrah and garnacha peluda.
Latest tastings in the area
Register for free and access our content
Discover for free over 12,000 wines reviewed every year
Find the best bars and restaurants where wine is pampered.
Receive every week our newsletter with our wine of the week, the trendiest bar and everything about the world of wine.