Tacoronte-Acentejo D.O. / D.O.P.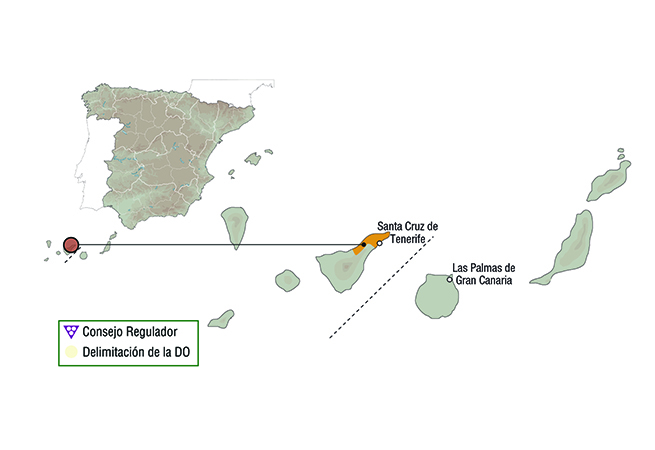 Classification of young wine vintages
Not rated
Good
Very good
Excellent
2009

2010

2011

2012

2013

2014

2015

2016

2017

2018

2019

2020

2021
See detail of Tacoronte-Acentejo D.O. / D.O.P.
SITUACIÓN

Ocupa la vertiente norte de Tenerife, con una extensión longitudinal de 23 kilómetros y nueve municipios acogidos: Tegueste, Tacoronte, El Sauzal, La Matanza de Acentejo, La Victoria de Acentejo, Santa Úrsula, La Laguna, Santa Cruz de Tenerife y El Rosario.
CLIMA
Típicamente atlántico, alterado por la orientación de la isla y el relieve que dan lugar a una gran variedad de microclimas. Las temperaturas son en general suaves, gracias a la influencia de los vientos alisios que proporcionan altos niveles de humedad, en torno al 60%, y las lluvias resultan escasas.
SUELOS
El suelo es volcánico, de color rojizo, constituido por materia orgánica y oligoelementos. El viñedo se cultiva tanto en los valles próximos al mar como en las cotas más altas hasta los 1.000 metros de altitud.
VARIEDADES
BLANCAS: güal, malvasía, listán blanco, marmajuelo, pedro ximénez, moscatel, verdello, vijariego, forastera blanca, albillo, sabro, bastardo blanco, breval, burrablanca y torrontés. TINTAS: listán negro, negramoll, tintilla, moscatel negro, malvasía rosada, castellana negra, cabernet sauvignon, merlot, pinot noir, ruby cabernet, syrah, tempranillo, bastardo negro, listán prieto y vijariego negro.
SUBZONAS
Anaga (engloba los municipios de La Laguna, Santa Cruz de Tenerife y Tegueste) y se corresponde con la superficie del Parque Rural de Anaga.
DATOS
Pro­ducción 17: 950.000 litros

Comercialización: 99

% España - 1 % extranjero
CARACTERÍSTICAS GENERALES DE LOS VINOS
Son ligeros y afrutados; se producen en poca cantidad.
Elaborados fundamentalmente a partir de listán negro, mantienen el carácter varietal de esta cepa y resultan frescos y agradables de beber.
Es el producto más característico de la DO. Los tintos jóvenes presentan un color cereza granate o rubí granate; en nariz desarrollan aromas de buena intensidad, son frescos y afrutados y transmiten un carácter algo silvestre, pero muy original de la uva listán. Recientemente, comienzan a elaborarse también versiones con crianza en barrica.
Latest tastings in the area
Register for free and access our content
Discover for free over 12,000 wines reviewed every year
Find the best bars and restaurants where wine is pampered.
Receive every week our newsletter with our wine of the week, the trendiest bar and everything about the world of wine.