Tacoronte-Acentejo D.O. / D.O.P.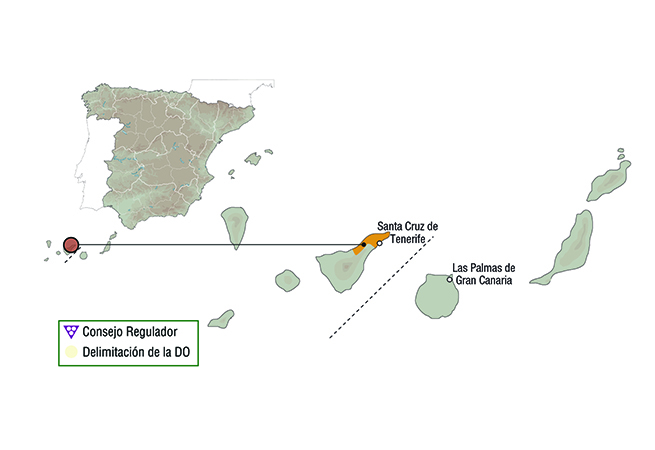 Classification of young wine vintages
Not rated
Good
Very good
Excellent
2009

2010

2011

2012

2013

2014

2015

2016

2017

2018

2019

2020

2021

2022
See detail of Tacoronte-Acentejo D.O. / D.O.P.
DATA
Nº of hectares under vine: 740 - Nº of vine growers: 1.123 - Nº of wineries: 30 - Harvest 21: Very Good - Production 21: 900.000 liters. - Marketing: 99% Domestic - 1% International.
SITUATION
It occupies the northern slope of Tenerife, with a longitudinal extension of 23 kilometers and nine municipalities: Tegueste, Tacoronte, El Sauzal, La Matanza de Acentejo, La Victoria de Acentejo, Santa Úrsula, La Laguna, Santa Cruz de Tenerife and El Rosario.
SUB-ZONES
Anaga (includes the municipalities of La Laguna, Santa Cruz de Tenerife and Tegueste) and corresponds to the area of the Anaga Rural Park.
CLIMATE
Typically Atlantic, altered by the orientation of the island and the relief that give rise to a great variety of microclimates. Temperatures are generally mild, thanks to the influence of the trade winds that provide high levels of humidity, around 60%, and rainfall is scarce.
SOILS
The soil is volcanic, reddish in color, made up of organic matter and trace elements. The vineyard is cultivated both in the valleys close to the sea and in the higher altitudes up to 1,000 meters above sea level.
VARIETIES
White: güal, malvasía, listán blanco, marmajuelo, pedro ximénez, moscatel, verdello, vijariego, forastera blanca, albillo, sabro, bastardo blanco, breval, burrablanca and torrontés.
Reds: listán negro, negramoll, tintilla, moscatel negro, malvasía rosada, castellana negra, cabernet sauvignon, merlot, pinot noir, ruby cabernet, syrah, tempranillo, bastardo negro, listán prieto and vijariego negro.
GENERAL CHARACTERISTICS OF THE WINES
WHITES
They are light and fruity; they are mainly made with listán blanco alternating with malvasía, moscatel or verdello. They combine floral hints provided by the muscatel and malvasia with herbaceous traits of the listan blanco. In the mouth they are light and easy to drink.
ROSÉS
Made mainly from listan negro, they maintain the varietal character of this grape variety and are fresh and pleasant to drink.
RED WINE
This is the most characteristic product of the DO. The young reds have a garnet cherry or ruby-garnet color; on the nose they develop aromas of good intensity, are fresh and fruity and transmit a very original wild character of the listán grape. They stand out for their marked Atlantic character, which makes them very fresh and unique.
Latest tastings in the area
Register for free and access our content
Discover for free over 12,000 wines reviewed every year
Find the best bars and restaurants where wine is pampered.
Receive every week our newsletter with our wine of the week, the trendiest bar and everything about the world of wine.